White is the neutral colour par excellence in decoration, a timeless colour suitable for the interior design of any space. Bathrooms, kitchens, living rooms, bedrooms… As flooring or cladding… It is suitable for any room and above all it is very versatile, which allows decorators and interior designers to use it in all types of decorations.
From Azulev we want to highlight the advantages of white in interior design and make a compilation of some of our collections available in this luminous colour.
White colour: advantages
The main reason for its use in all types of decoration is due to the number of benefits it has. From Azulev we have reviewed the main ones:
Easy application. A colour that is easy to apply because it can be combined with almost all the colours in the chromatic range.
It unifies and widens spaces. It is a colour capable of unifying spaces and, above all, of enlarging them. White is the ideal colour to make spaces appear larger, which is why it is recommended for smaller houses.
It gives up the limelight. White is able to give prominence to other colours and to the decoration of the home. It draws attention to other elements and colours.
It brings luminosity. It is one of the most used colours because it is the colour that multiplies all the light that enters the spaces.
It reduces the visual weight of the furniture: it makes the furniture look softer and less heavy.
Collections
At Azulev we offer many collections in white. Below, we have made a selection of some that are ideal for use in many rooms, although we love them for the design of bathrooms in the home:
Blancos Rect
As its name suggests, Blancos Rect is a collection marked by white in different sizes, some of them with relief, others in gloss, others in matt… This collection stands out for being a clean and very elegant collection, versatile and suitable for different styles of decoration.
Enya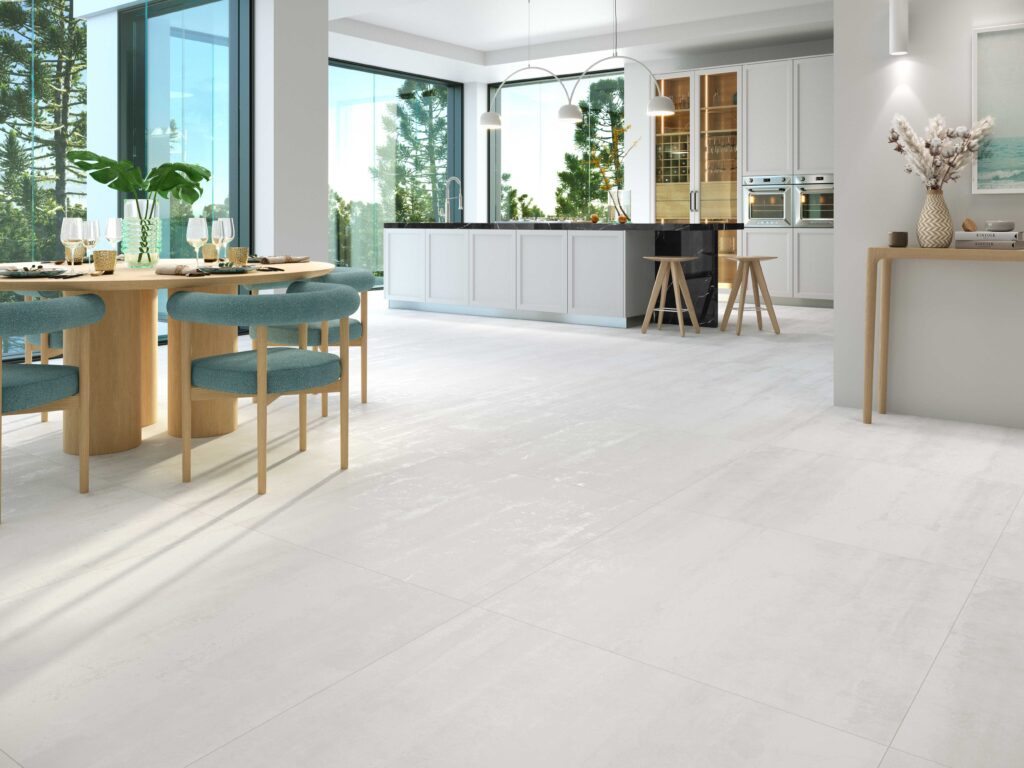 Enya is the collection that has a very soft texture and is characterised by its metallic and shiny colour. It stands out for providing a great feeling of relaxation and mental wellbeing.
Calacatta
Calacatta is not only trendy, it is also one of the most prized materials for its aesthetic beauty and easy combination. This Azulev series stands out for its particularly white base, which provides a great luminosity wherever it is placed.
The possibilities it offers, gloss finish and matte finish, provide a sense of elegance, brightness and modernity worthy of the most sophisticated and modern spaces.
Temple
Tradition and quality come together to give rise to Temple, a collection of an intense white colour that stands out for projecting light in a unique way. With Temple you will be able to design the best ambiences, relaxed and serene atmospheres that encourage rest and evoke feelings of peace.
Discover more white collections by Azulev!